Fighting suffering
Fighting suffering. Thich Nhat Hanh discusses how to fight suffering in the world, by firstly fighting it in ourselves. Only by having a peaceful core can we expand peacefulness, just as only by being able to help ourselves can we help others.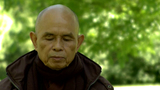 A new future
3:8
Dharma talk in modern life
1:34:39
Dharma talk in modern life. Zen Master Thich Nhat Hanh speaks about the ways of Dharma in modern society, in order to surpass the material surface we live in and achieve true knowing of our very own nature.