Discover The Island
This artificial island has today become a playground for the Viennese and a tourist attraction for foreigners. But nobody associated the island with thousands of wild animals have conquered, making it a hunting and breeding.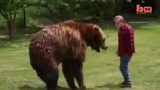 Wrestling A Grizzly Bear In My Garden
2:54
Rediscovering Clay, a Forgotten Material
44:16
Clay has been used to build many works throughout history as well as the Chinese Wall, Japanese palaces, High Risers Arabs, Persians residential courtyards, African mosques and European wooden houses. However, this material had long since fallen into oblivion. It is now, with the move towards greater sustainability is given to all areas of life it makes architects, designers and even large companies are rediscovering the clay as a building material.