The Weight of Wheat
Where weighs more than one kilogram of wheat? Three farmers, three countries and a product. Discover the difference of the work involved in harvesting and selling a kilo of wheat for a farmer in Austria, one from Russia and one from USA ...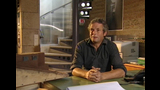 Rediscovering Clay, a Forgotten Material
44:16
Calm Alpine Lakes
48:34
The Calm Alpine Lakes documentary traces the journey of water - from the glacier into the valley through the mountains to its source, journey that springs, ponds, lakes and rivers have forged the beauty of our landscape through time with its fascinating world of flora and fauna. In addition, each small lake offers us his own story, telling about lovely cliffs, underwater world, dragons, ancient species, and cavers and modern science. Waltraud nature filmmakers awarded Paschinger and Erich Pröll will lead us along this fascinating journey.