What is Shamanism?
Al Romao speaks about the nature of shamanism, and his experience as a shamanism practitioner. Both as a medical discipline and a religion, shamanism achieves not only physical healing through a variety of methods such as plants and sounds, but also an emotional and spiritual development, through the connection of the spirit world and the individual'??s essence.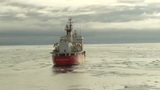 The Inuit of Gjoa Haven
2:22
El Agua- Masuro Emoto
2:29
Este video habla de la milagrosa estructura molecular del agua, que permite que cambie su forma con distintos estados de √°nimo y de conciencia.